Financial Highlights
Re-engineer Corporate Structure
Create Values Through
to Take on Market Challenges "Focus" and "Integration"

Letter to The Shareholder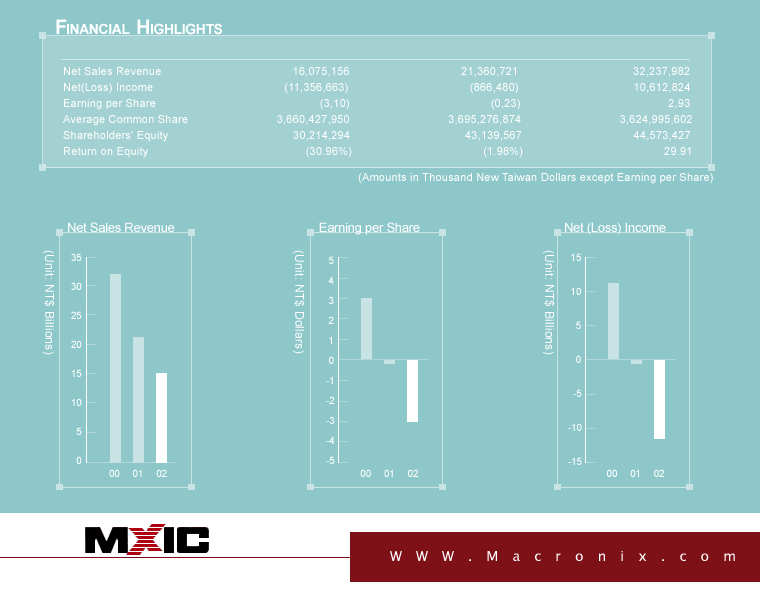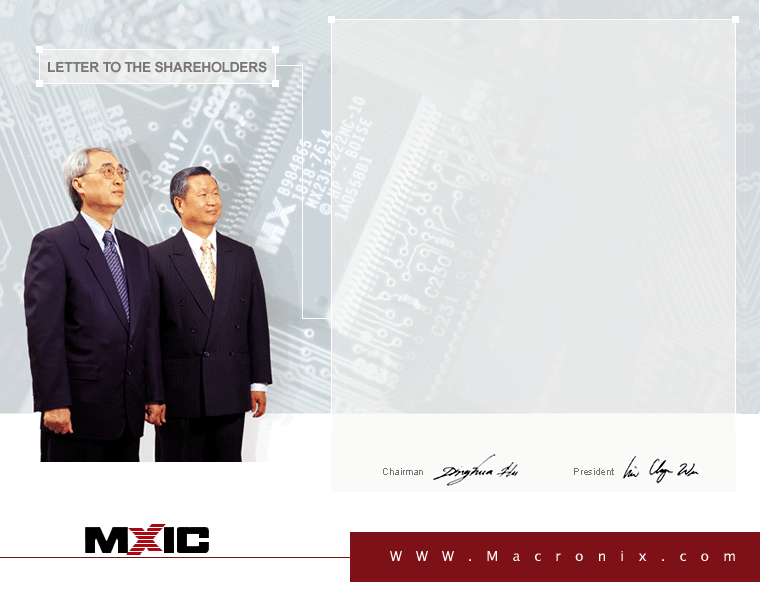 Dear Shareholders:

The year 2002 turned out to be an unprecedented challenge for Macronix, as the downturn of the global IC industry continues. To make matters worse, the price of Flash memory products dropped sharply as a result of a cutthroat pricing war among leading suppliers in this weak economy. The demand from Macronix's key customers also fell short due to new product transition. It led us to revise our financial forecast in 2002. Total revenues in 2002 were NT$16.075 billion, with a before-tax loss of NT$11.357 billion. With continuous dedication of all our employees, Macronix managed to show revenues growth in the second half of 2002, despite chronically adverse market conditions. The total product shipment grew 25.91% compared with the same period in 2001. In particular, the shipment of Flash memory surged 107%, a recognition of the superb performance and quality of Macronix's products.

We are cautiously optimistic about the economy in 2003. Following our usual pragmatic business approach, we will not only work very closely with our existing customers, but also direct our efforts to the development of the highly integrated system market. A total of 44 new products such as 32bits polyphony harmonic IC, digital camera module, memory card, system module and the application in HDTV are scheduled for launch this year, representing 39% of the total revenues this year.

The advancement of new process technology is most evident in the Flash memory area, The 0.15um process is ready in our production line. NBit-based 128Mb Flash was underway in Q4 2002 and expected to be out same time this year. Thanks to joint efforts with Mitsubishi, 0.15m 128Mb DINOR Flash is ready for volume production. According to the studies by research institutions, the demand of Flash memory will grow dramatically in the next two years due to the increasing popularity of handheld devices. In 2003 Mask ROM will still account for 44% of Macronix's revenues, while the contribution by Flash is expected to climb gradually to 31%.

The Fabs' utilization rate will be closely monitored based on the pace of economic recovery and the inventory level. The shipment by Fab 1 and 2 is expected to reach 200,000 and 360,000 wafers, respectively, this year. Capital spending will be committed according to the needs and requirements of process upgrade and the product mix.

In light of the volatilities of the economy, Macronix will adjust our business strategies effectively and make the most use of our resources in order to reach the next peak. To this end, we initiated the "Elite Project" at the end of last year, which already founded a spin-off company, MagicPixel Inc., specializing in digital signal processing (DSP) IC for digital cameras and Flat Panel Applications. Macronix's business model has been reorganized into three major groups, namely, Headquarters, Technology and Manufacturing Service Group, Product and Marketing Integration Group, this year. The intention is to transform Macronix from a component supplier to a leading Integrated Solutions Provider (ISP). The spirit of the reorganization is to provide "Focus" and "Integration" in every individual and the organization to bring up their execution capabilities and efficiency. The goal is to achieve the "win-win-win" situation for our company, customers and shareholders by creating greater added-values to strengthen our strategic partner relationship.

In closing, we would like to wish you the best of health and prosperity.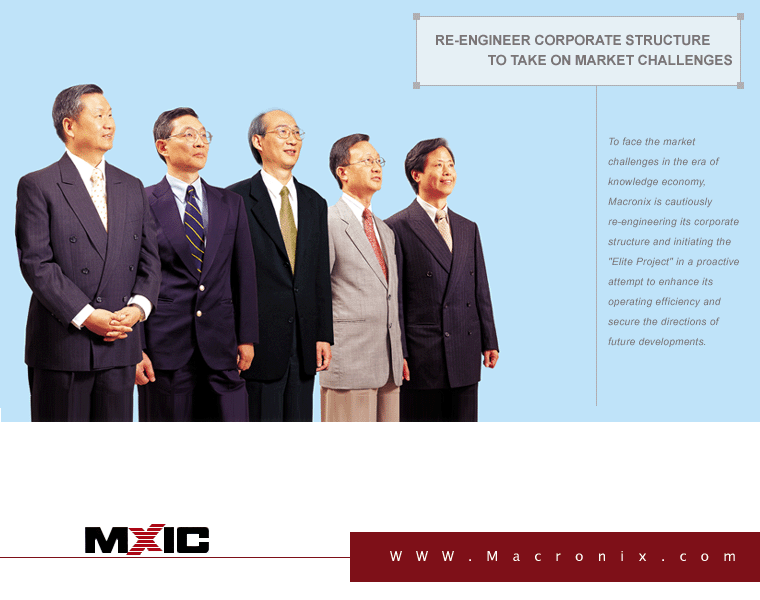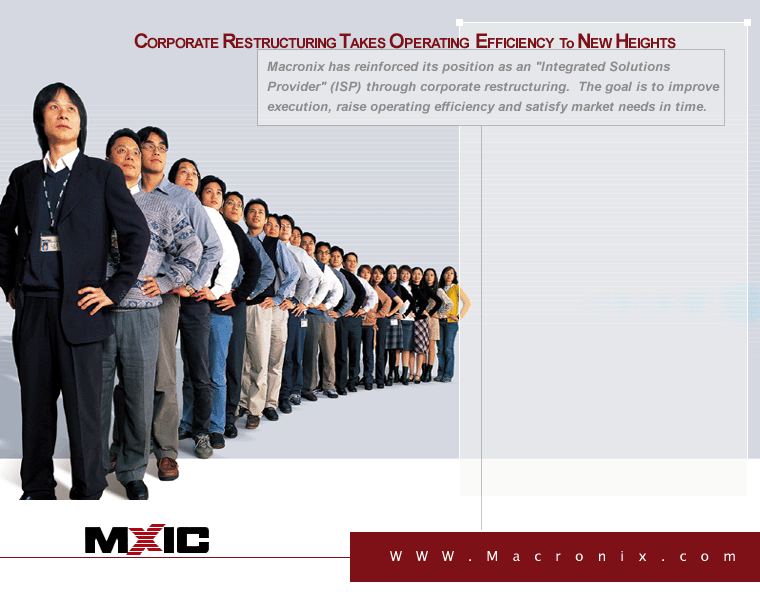 IC industry's evolution over the last decade proves that Macronix made the right move positioning itself as an ISP. New trends toward integrated development are increasingly evident in IC industry. The market has proved that component level production and sale will no longer translate into real, effective productivity for semiconductor manufacturers.

Building on its outstanding performance in its first decade, Macronix has confidence to outperform itself as an ISP in its second decade of operation. Key approaches include the "focus" and "integration" of efforts directed to strengthen execution and enhance operating efficiency. To this end, the corporate structure has been reorganized to consist of a "Chief Operating Officer" and two functional groups, "Technology and Manufacturing Service Group" and "Product and Marketing Integration Group." The new framework allows both the organization and its individual members to focus their efforts and fully apply their expertise on the job.

As the CEO takes charge of strategies, integration, coordination and supervision, the two groups will be able to concentrate on their own area of work and fulfill their potentials. The goal is to close the gap between Macronix and its competitors in time and optimize its capacity utilization. Products with differentiation will be introduced to the market to meet customer needs in time and, thus, converted into operating profits.

The cooperation mechanism of the new framework allows opinion exchange and simplifies the decision-making process, enabling the company to spot every market change as it happens. As a result, both the production and marketing groups will be able to meet market needs by making flexible adjustments. Such a mechanism makes it possible for the organization and individuals to collaborate effectively and take on market challenges hand-in-hand.

To improve its core technology and competitive edge in the market, Macronix will spare no efforts to develop Non-Volatile Memory products, such as Flash, and expand its sales by offering integrated solutions to its clients.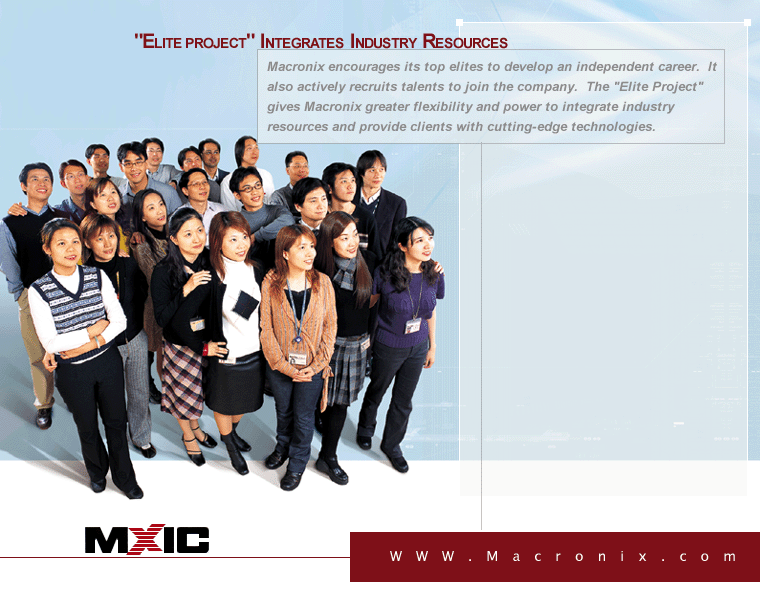 In the post-PC era, Macronix will devote its efforts to client-oriented and application driver system applications. The company is building a comprehensive supply chain of its upstream in full speed. Such a supply chain enables Macronix to integrate industry resources and offer clients cutting-edge technologies and competitive integrated solutions services.

After more than a decade of cultivating talents and building up resources, Macronix is ready to initiate an "Elite Project." The "Elite Project" aims not only to integrate its own talents and capital, but also to recruit outside talents in order to create a team possessing the technological know-how needed to deliver products requested by clients in time.

The spin-off companies created under the "Elite Project" have the opportunity to share the technologies and capacity resources of Macronix. In addition, Macronix will also establish trustworthy, high quality "competition partnerships" with other semiconductor companies. The goal is to fully utilize Macronix's existing technologies and capacity in order to maximize the investment and sales capability. The "Elite Project" promises to extend Macronix's reach, bringing it closer to its clients and allowing it to improve its services and market penetration ahead of the competition.

As a leading supplier of Non-Volatile Memory technology and products, Macronix has spared no efforts in developing related technologies.Its partnerships with numerous world-class companies keep Macronix abreast with market movements and the direction of future IC developments.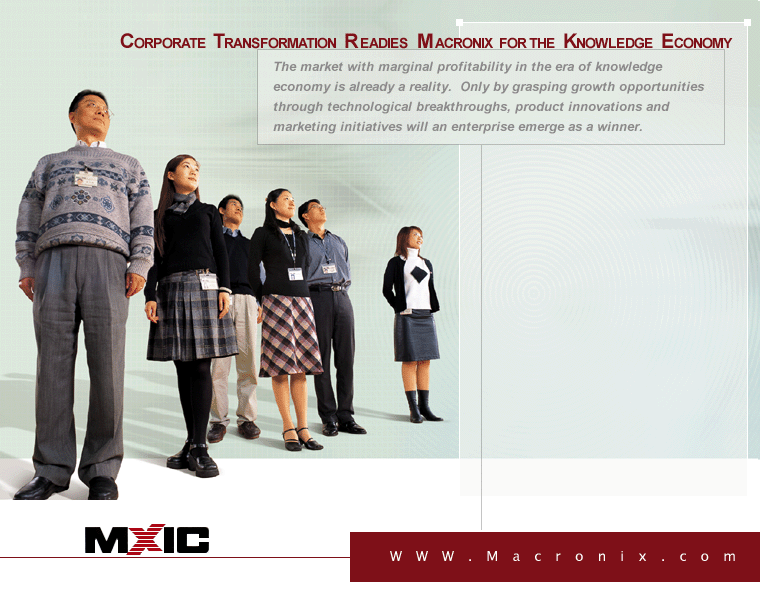 The semiconductor industry suffered an unprecedented blow during the global economic slump since 2001. Global trend observers optimistically dismissed it as another cyclical downturn and believed in a recovery soon after the dust had settled. Unfortunately, the global economy remains at rock bottom even to this day.

Building on solid R&D efforts over a decade, Macronix has gained a foothold in the highly competitive global semiconductor market. Nevertheless, Macronix suffered its historic operating loss in 2002. Facing increasing challenges in the era of knowledge economy, Macronix has repositioned itself to better "focus" on its core Non-Volatile Memory technology and "integrate" internal and external resources. By strengthening its corporate structure, Macronix is poised for changes and ready to take on the unforgiving market challenges ahead.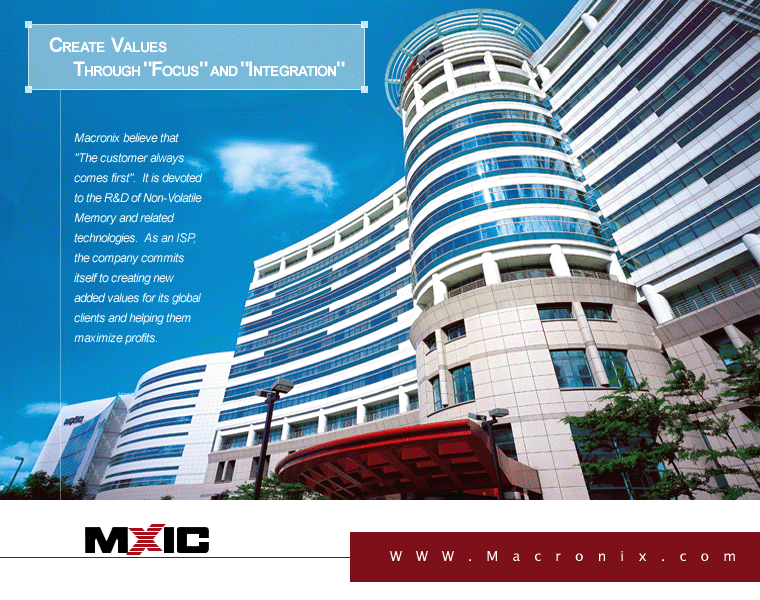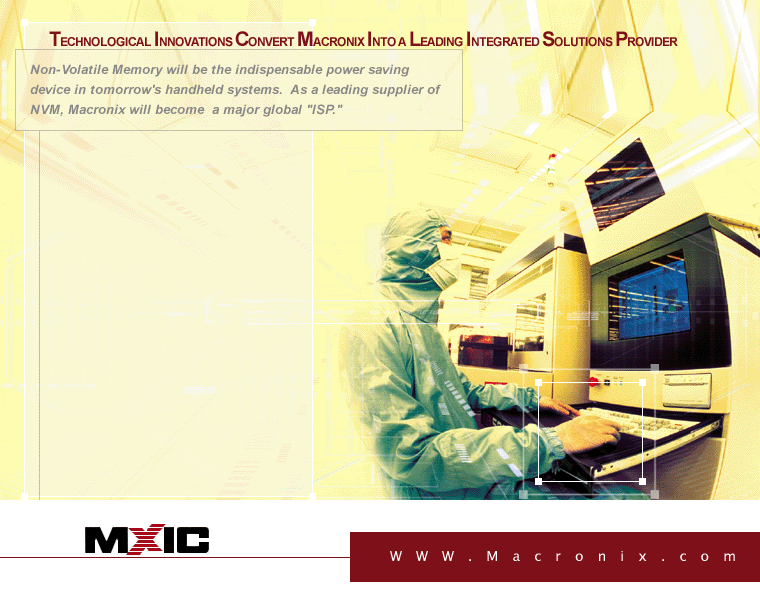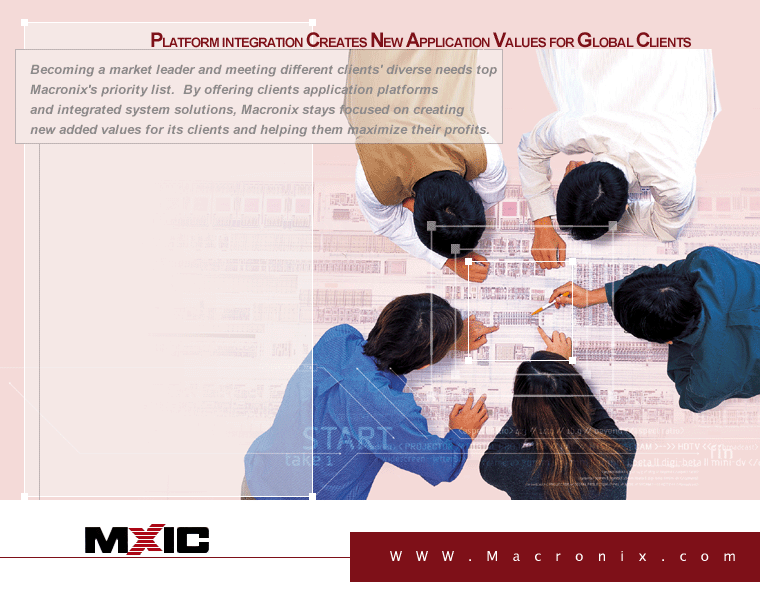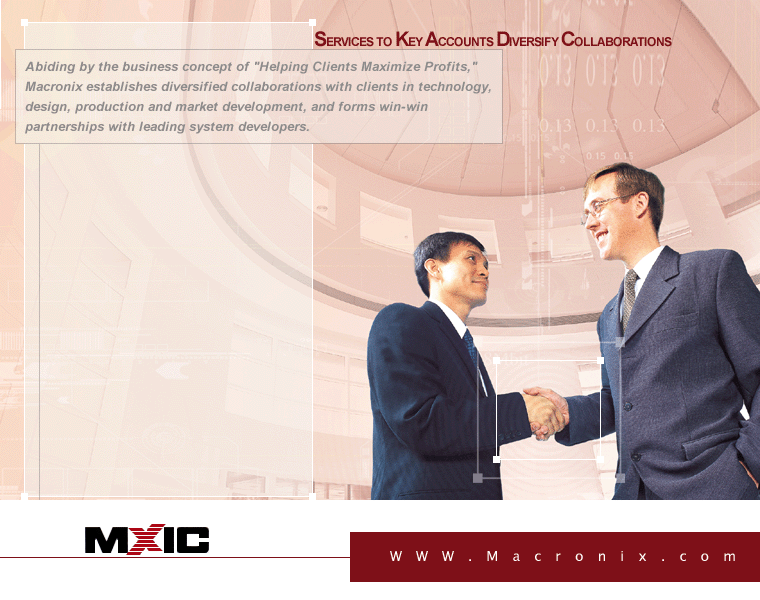 Macronix has been a global leading supplier of Non-Volatile Memory, its core product. It is also one of the very few global suppliers offering the complete line of Mask ROM, EPROM and Flash technologies. Looking ahead, Macronix is fully charged to develop products with a more competitive cost structure using state-of-the-art technologies.

Macronix's commitment to the development of advanced technologies has had numerous achievements. In 2003, 0.15um Mask ROM will be in production. The 0.12um Mask ROM process with option 2bits/cell is under development now and will be ready in 2004. Our Flash process will be upgraded from 0.15um to 0.11um, while the Embedded Flash process will be advanced from 0.25um to 0.18um.

The revolutionary NBiT technology, capable of doubling memory storage, is capturing Macronix's major efforts in Flash area. The product's unique feature is expected to break the existing limitations of conventional technologies and cost. Applications include cellular phones as well as memory cards. It can be easily integrated into a System-On-Chip (SOC), solving the problem of integrating high density memory and logic technology.


Macronix's long-term development of Non-Volatile Memory, Multimedia Logic products and SOC technologies has been fruitful. Our product line now covers a wide range of applications including digital camera, game console, printer, video/audio multi-media, cellular phone, electronic dictionary, PDA and Flat Panel LCD.

Macronix's technology innovations in collaboration with its clients have produced end products that offer mobility and diversity. Several dozens of commercially potential products are scheduled for launch in 2003, such as existing LCD Monitor controller applied in HDTV and electronic picture frame, the 256M, 128M ASIC ROM in AGB, 128M and 64M Flash memory in cellular phones, 32-polyphony harmonic chips, digital camera module, memory cards and system module.

The continuous introduction of high-end, commercially potential products demonstrates Macronix's innovative capabilities and turns it into an ISP that offers clients application platforms powering the sales of diversified, individual components. Macronix will focus on creating a win-win partnership with its clients by developing system solutions for individual markets. Application-specific integrated solutions will become stars in the knowledge economy. To be a trustworthy partner, Macronix is doing its best to offer technological integration and help clients maximize profits.

In 2002, Japan's market grabbed the biggest share - 47% - of Macronix's worldwide revenue, followed by 43% from the rest of Asia. US market accounted for 8%, while Europe came in last with 2%. There is obviously plenty of room for expansion in Europe, US and Mainland China. Macronix plans to identify local market needs and deploy additional manpower to seize business opportunities and market share. It is crucial to offer clients what they need ahead of competition by delivering high quality and highly efficient services with "focus" and "integration." From its solid foundation in Taiwan, Macronix's management team with global experience is poised to conquer the world beyond.


Macronix's "key accounts" play a vital role in its development strategy. Through long-term cooperation with world-class system developers, Macronix has been able to continuously innovate its technologies. As a result, Macronix has achieved the technological know-how, product mix and quality that meet client's requirements and market needs.

In November 2002, Macronix and Mitsubishi signed a "High Density Flash Memory Joint Development and Manufacturing" Memorandum in a joint effort to develop 0.15?DINOR advanced process technology and product. The first step is to produce Mitsubishi's 128Mbit high density Flash memory which is part of the high performance mobile memory chipset. The joint development model is expected to take both companies toward the next generation of technological development. The current model between Macronix and Mitsubishi upgrades the previous production technology cooperation to include the aspects of technology, design, production and market development.

Central to the partnership between Macronix and its "key account" is its service concept of "Helping Clients Maximize Profits." The relationship between Macronix and its current key accounts goes beyond that between a product supplier and a buyer. Macronix hopes to create the synergy effect of "one plus one generating greater than two" through such relationships by offering total solutions services covering products and technology.

Macronix prides itself in lowering the R&D cost of its clients, improving their competitiveness and helping them maximize profits by providing high quality products and readily available production capacity. Macronix regularly holds technical workshops and quality control meetings with its clients for technical exchange and quality improvement. As an ISP, Macronix offers not only product sale but also total solutions in technology and services.